Tseminicum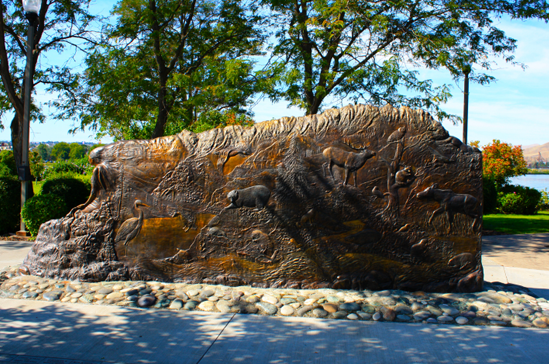 Wayside commemorates the Nimiipuu legend site "Meeting of the Waters" where the Snake and Clearwater Rivers join. Site includes a bronze sculpture entitled "Meeting of the Waters" and interpretive signs, a U.S. Geodetic Survey marker showing the Lewis and Clark Trail, and a small boat ramp. Extensive recreational trails on the Levee National Recreational Trail are on the Clearwater River side of the site. A pedestrian bridge links these features to a parking area, restrooms, and ISHS Marker just off D Street. Access to the wayside is restricted after dark.
Nez Perce County Historical Museum
The museum is on the site of Lewiston's first hotel, the Luna House, built in 1862. During the 1880s, the hotel was used as the county court house until it was torn down in 1890. The property stood empty until 1937 when the current Art Deco building was constructed by the Works Progress Administration for use as government offices. The Historical Society moved into the building in the late 1970s. In addition to preserving artifacts, the Society maintains a research library of local history and works with the public to provide educational information. An extensive photograph collection consists of early day citizens as well as historic scenes.
A series of exhibits begin with Lewis and Clark at the museum's entrance area and progress from room-to-room throughout the building.